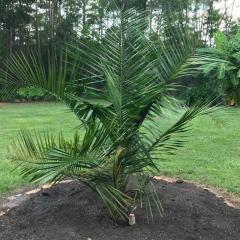 Jubaea x Syagrus growth in 5 1/2 months
By meteorologistpalmguy, in COLD HARDY PALMS

---
Similar Content

By Alex37

Hi everyone, I'm new to the forum, I'm looking for butiagrus seeds (Butia x syagrus r.), I live in Italy, is there anyone who has them?


By CodyORB

I soaked them for 3 days (May 3-5) and placed in a 4:1 mixture of perlite and peat moss. 28 seeds split into 5 pots, 1 indoors (around 78F) and 4 outdoors (around 90F day - 75F night). Was expecting to wait 6 months to a year for germination. Surprisingly, the first to sprout was in the indoor pot! Since then I've moved all 5 into the garage (80's-90'sF) and I look forward to more action!
A quick question, when is a good time to transplant it into its own pot with more nutritious soil?



By Marc

How does one tell 5 gallon jubaea from beccariophoenix alfredii?  I have inadvertently commingled some, and while there are noticeable differences when these palms get larger (such as yellow petioles for the beccariophoenix alfredii, and the jubaea fronds and leaflets are stiffer), for smaller plants I'm having difficulty telling them apart.  Does anyone have some easy keys for differentiating them?
 
Marc


By SEVA

I recently acquired several different Tillandsias to add to my collection.  I've included a few in the photo below.  Does anyone know the cold hardiness of the non-native forms and hybrid?  I'm thinking they aren't as hardy as our native Spanish moss, but figured I'd check if anyone on here knows.  For now, I plan to treat them like I do for my other non/less cold hardy Tillandsia species.

From left to right: Tillandsia usneoides thick form, Tillandsia usneoides native form (for comparison purposes), Tillandsia usneoides super fine form, and Tillandsia recurvata x usneoides


By Manalto

I'm not at the house at the moment but my neighbor sent me this photo of my mule palm that has been in the ground about a year. I guess it had blown over in the wind. He staked it for me.
I noticed, the last time I was there and working in the yard, that it was wobbly. It's in the shade  in the early morning  but  gets full sun for the rest of the day. Are they known for having weak root systems? Any suggestions?