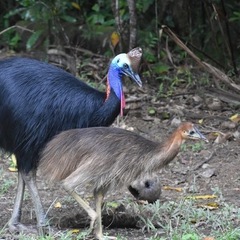 ---
Similar Content

By Aceraceae

By a tenth of a degree annual mean minimum (50.1 F), Key West is now zone 12(a) for 1991-2020. 
Key West is 100 miles from the Florida coast to the north and it's 100 more miles to Bainoa, the coldest town in Cuba where the all time record low of 33 F was recorded (colder than Key West record lows due to landmass and elevation)
https://www.climatestotravel.com/climate/cuba
"In northwestern Cuba, winter is pleasantly warm, but it's less warm than in the rest of the island. As mentioned, the north-west is the area that, in winter, is more exposed to short and sudden outbreaks of cool air from the United States, which can bring some days a bit cool and windy, and some rain. Occasionally, a particularly cold air mass can arrive, as happened for example in January 1977 (when the temperature dropped to 6 °C or 43 °F in Havana), in January 1981, in February 1996 (when the absolute cold record in Cuba was recorded, 0.6 °C or 33 °F in Bainoa), and in January 2010 (when a low of 4 °C or 39 °F was recorded at Havana airport). In the previous century, it seems that in January 1857 it even snowed in Cárdenas, and frosts ruined the crops."  
 
Key West is basically an ultra tropical Caribbean island (zone 12+). Miami/Beach/FTL proper (zone 11) is hard tropical with extremely rare frost, but both fall short of hypertropical zone 13 places that have never been below 50, or those most equatorial islands (Palmyra Atoll, Nauru) or the extreme hot deserts (Danakill/Dallol where it's humid without rain) that have rarely or never been below room temperature (zone 14)
The line is drawn nearly north-south here vs the classic FL NNW because both of these locations are to the SSW:



By Darren Michael

Hi everyone, I'm an artist/cartographer/landscape architect and palm enthusiast with also a general interest in plant geography (natural and horticultural).  I've seen a lot of posts here dealing with the actual and potential ranges of various palms, including using google street views to document the northernmost/southernmost example of a given species. This goes beyond palms, but I'm curious - has anyone ever come across, or contemplated, a combination of street views at even intervals along a temperature gradient, say from New York to Key West, documenting the appearances of various species at certain points? It would create a sort of photo-transect along the gradient, and could incorporate natural ranges as well as horticultural.