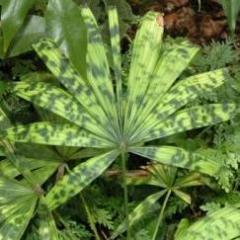 IPS Biennial Visit to Searle Brothers Nursery - May 25th 2014
By Palmarum, in IPS BIENNIALS

---
Similar Content

By Mandrew968

I got this bromeliad but I don't know the species. With all the seeds, I am thinking Tillandsia-would love to know what you guys think... Thanks!




By kinzyjr

Just a few photos from my visit to Fairchild over the holidays:






By kinzyjr

Just a few pictures from my trip to Vizcaya over the holidays:
Entrance to the museum/gardens:

The Dock:

Front of the House:

Side Garden:



By Moose

Lots of Rain falling on the Moose Land. Could be up to 4' before the day is through.
Spread 6 cu yards of "green mulch" from my pruned mango and avocado trees last month.
Observed at least 6 different species of mushrooms popping up. The soil and earthworms must be happy.


By PalmTreeDude

So I was walking on the beach and I saw some Mangrove seeds washed up (I saw them in the water the day before but did not know what they were before I looked them up) on the sand. There were some little kids picking them up and throwing them around. I got two and brought them to an area by the sand dunes that I saw was really wet and soggy. I stuck them in the ground there hoping that I possibly saved some mangrove trees (the beach has lots of people on it and there is no way they would grow there without being ripped out or something). I only took a picture of when I found them. Are they even mangrove seeds?