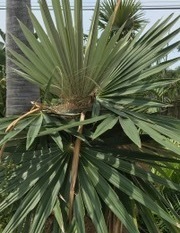 Dicytosperma album seeds for sale
Started by NatureGirl,

6 posts in this topic
Create an account or sign in to comment
You need to be a member in order to leave a comment
Sign in
Already have an account? Sign in here.
Sign In Now
---
Similar Content

Hurricane Palm Dictyosperma Album Growth Progression

By Opal92

Would like to share some growth progression pictures of a beautiful Dictyosperma Album in Homestead FL. This is at my relatives place I've been visiting over the years. This palm was planted around 2009 or so.
May 2009

 


Is this Dictyosperma album v rubrum?

By PalmatierMeg

Not sure where I got this little guy but he is untagged. I think it is Dictyosperma album v rubrum. Am I correct? If not, what is he?