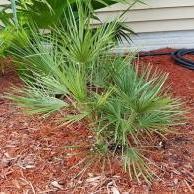 Chamadorea radicalis trying from seed!
Started by mdsonofthesouth,

---
Similar Content

Mo' Free Chamadorea radicalis seeds

By DoomsDave

Howdyall, it's that time again.
Some of my palm buds have given me a BUNCH of Chamadorea radicalis seeds, and now they're available for all who want some.
Free.
Send me a Private Message (PM) with your address and I'll mail them, anywhere in the world. Please say "Free radicalis seed" or something like that in the subject line. If you've gotten seeds before, you can get more. This is to spread palm love. I'll wait a till after the New Year before sending out seed, to see how many want some, and give the posties a bit of a breather before the onslaught.
In years past, they've gone to Japan, Italy, Holland, Belgium, Norway, Germany, Serbia, South Korea, Canada, India, Phillipines, Poland, Russia, England, Sweden, Croatia (expletive), France, and even (gasp!) Madagascar! As well as many places in the USA.
This has been a popular giveaway, and why not? The palms are small, take heat, cold, drought, will grow outdoors in places you might not even imagine palms surviving. They're a mix of bush and tree type. The tree types only get about 2 M (6 feet, more or less) tall. So, unless you're in a really low-ceiling house, they'll stay in a pot for life. They'll take 20 F outside, even lower if protected. They're best in shade, but will survive sun. Remember, these are Death Camp Grown(TM). If you kill the plants, well, we all have problems.
SEND ME YOUR PMS! And happy holidays.
 


Chamadorea radicalis trying from seed!

By mdsonofthesouth

DoomsDave sent me some seeds and im germinting(or attempting to) Chamadorea radicalis in my bedroom. Soaked the seeds for a few days and planted not long ago. Now its watering and waiting lol!
House is low 70s so might be slow going, might invest in a warming pad.