I'm back from my trip to Tampa. Who knew visiting two 90+ old people could wear you out. Well, while there I had the priviledge of attending the CFPACS meeting and garden tours. At the home and garden of Mike Evans (I hope everyone saw the pics of that amazing garden) there was a palm auction and plant sale. Here are the new additions to the So Cal West Coast from the Florida West Coast.
Here are the three Pseudophoenix sargentii and a partial view of the Coccothrinax cupularis. all have been potted up from 3 gallon pots.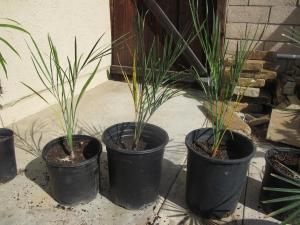 The other two palms I purchased are from the auction that went on after the garden tour. Two Foxy Lady palms.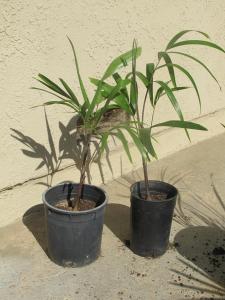 I wish I could have purchased more and larger palms but transporting palms from Florida to California isn't an easy task. I did try to get some zamias but did not get an answer back from the seller.