In September, 2011, my friends Frank, Mike & I made a morning visit to Donald Sanders's garden on the Kona side of the Big Island. It's at the 1600-foot elevation overlooking Kailua-Kona on the slopes of Hualalai, the third (very quiet, long-dormant) active volcano (last erupted in 1801) of the Big Island.
The slope of Donald's garden gives it a kind of drama missing from the gardens in the Puna District over near Hilo. The siting is reminiscent of certain California landscapes, but with a smooth, volcanic contour that I've only seen in California in the Cascade Range. Entering his house at the top floor from the upslope side, I felt like I was in a dream tropical version of Sausalito, the steep bayside town across the Golden Gate from San Francisco.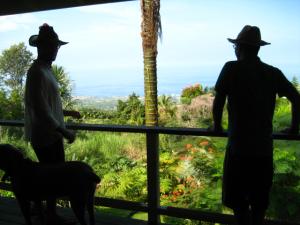 Looking down toward Kailua-Kona you see the green trunk of a Pigafetta elata emerging from the downslope side of the house and towering over the roof.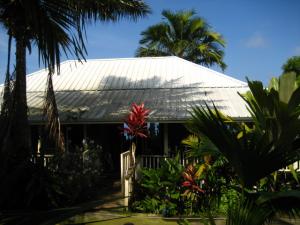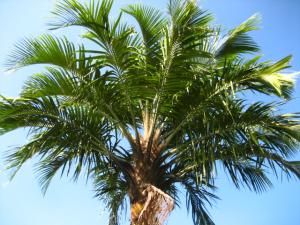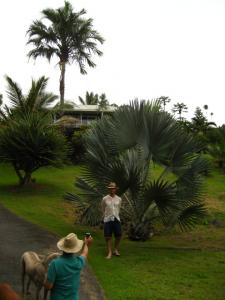 Frank takes Mike's portrait against the bizzie. See the Pigafetta (7 years old, I believe) up next to the house.
At this elevation, Donald is able to grow truly tropical species like Pigafetta alongside more cool-growing species like Hedyscepe canterburyana.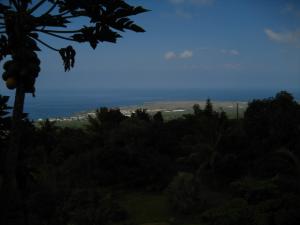 View out from his lanai toward Kailua-Kona
Here's the crown of one of his Hedyscepe with a coconut crown above it.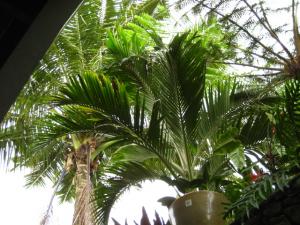 Among the many beautifully grown rare plants in Donald's garden is Cyathea dealbata, the silver tree fern known as ponga in New Zealand, where it is the national emblem. I had a hard time getting a good photo of it. I was thrilled to see one live; I don't know of any in public gardens in California, where I suspect it would thrive given the success of other NZ plants. Donald's has not yet begun to make spores.