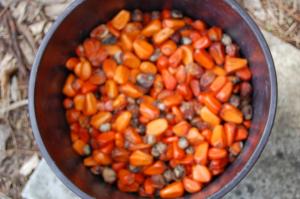 I have a bunch viable
Zamia floridana
seed that I want to give away. Membership has its privileges, IPS members will be given preference.
Sorry, I am not willing to pay for the US postage for shipping.
I will be attending the South Florida Palm Society Spring Sale at the Montgomery Botanical Center on March 17, any leftover seed will be donated to the free seed booth.
PM me if you are interested.
I really love this Florida native cycad. Although this cycad is no where near to be extinct however its native ranges have been greatly reduced by development and agriculture. A flour-like starch called arrowroot was made from this cycad in the early 20th century. According to Loran Whitelock, at the peak of the arrowroot production, 10-15 tons of plants were processed each day. Billions of these plants were destroyed. As a percentage, less than 1% of these plants are in habitat compared to the prior arrival of man. I really encourage any Floridian to find some space in their garden for these wonderful plants. There is even a native butterfly (Eumaeus atala) that is dependent on this cycad for its life cycle.
Ron