Last Sunday folks from the Northern California chapter gathered for a meeting at Jim Denz's extraordinary palm garden in Los Altos, California (near San Jose and Palo Alto). Jim's garden is intensely lush, with an extraordinary koi pond generating a tropical atmosphere through the back portion of the property, and with towering established plantings framing the exotic front-side gardens. He is cultivating 90+ species of palms, not to mention numerous unusual subtropical shrubs, succulents, trees, and perennials. Neighbors have incorporated palms into their landscapes as well, surely following Jim's impeccable example. Thanks to local topography, the microclimate allows for cultivating a range of tender species that might be impossible just a few blocks away. Even in 2007, Jim's thermometer didn't drop below 26-27F (if I remember him correctly).
Here is a Flickr set of photos from landscape designer David Feix taken at the meeting:
Jim Denz Garden
. While you're on his Flickr, take time to admire photos of gardens he has designed in the SF Bay Area, many with use of palms and subtropicals.
A high proportion of Jim's palms are flawless - perfect color, minimal tipping, etc. -- amazing. He's a master at creating a healthy, vibrant tropical garden in Sunset zone 16 / USDA 9b/10a. Among the species most surprising to see growing healthily in the ground in this climate were Licuala peltata var. sumawongii, Hyophorbe indica, and Roystonea borinquena.
Jim was a gracious host and the weather was just right.
Licuala peltata var. sumawongii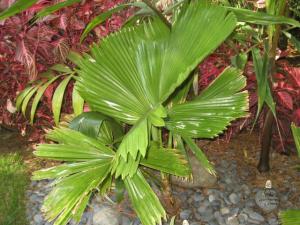 A spectacular Brahea calcarea (aka nitida) growing in part shade to perfection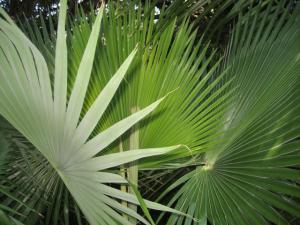 Roystonea borinquena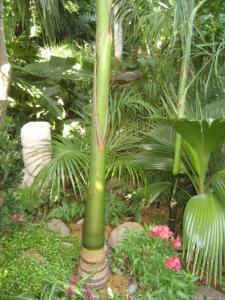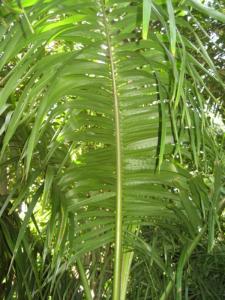 When I have time I'll post more of my own snapshots directly into this topic. Hope others who attended last Sunday will also contribute.