The Costa Rica Palm Society held a meeting at Wilson Botanical Garden this past weekend. The garden is located near the town of San Vito up in the mountains near the border with Panama at about 1,100 meters (3,609 ft). The OTS (Organization for Tropical Studies) aquired Wilson Botanical Garden in 1973 as part of Las Cruces Biological Station.
The Wilson's began planting the garden in 1962 and remained on the property until they passed away in the mid and late 1980's. This is an amazing place with a vast collection of mature palms and other tropical plants from around the world. I immediately fell in love with this garden and can't wait to go back again.
Some photos of the gardens around the old Wilson home which is now a dormitory for students.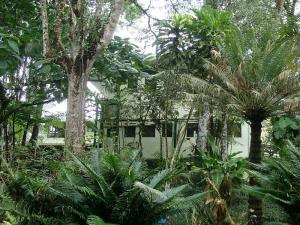 Bromeliad Garden