John DeMott and I have just returned from Brazil where we met up with Jill Menzel and Randall Quirk, who some of you will remember from the Dominican Republic Biennial. We went to Brazil check out the various day to day sites for the 2010 Biennial and take care of some of the details to make sure this will be an enjoyable and smooth trip for all attendees.
To whet your appetite, we thought it would be fun to show you some photos of our trip so you can see what will be awaiting you next April. Over the next several days I will put more and more photos up of the various places we will visit.
I will say right now that I think anyone choosing to go on this biennial will come away with an enjoyable lifetime experience.
Sooooo, without further ado ……………..
The flight from Miami was eight hours and 40 minutes. It is the most unpleasurable part of the entire trip. Upon arriving in Rio, attendees will be met by guides from the tour company after you get through immigration and customs. For those of you (like us Americans) who need a visa to enter Brazil, make sure you follow the requirements for obtaining a visa in the right time frame as outlined by the Brazilian consulate nearest you. For me, I went to Miami. Their website is here:
http://brazilmiami.org/eng/visas.php
I got a tourist visa as it is the simplest to get. It is good for 5 years. One key thing to remember is that you must get your visa within 90 days of going to Brazil. It will be considered invalid if you get it sooner than that. Cost was $130 but can be more if you get it by mail or a third party.
From the airport, you will be taken to the Windsor Barra Hotel, about a 45 minute drive. You will see a bit of the city and sea port before getting to a more scenic area. My biggest surprise was the site of giant ocean oil rigs being assembled before being towed out to sea.
On this trip, we did not stay at the Windsor only because it was more convenient for our purposes to be more in town. We did thoroughly check out the Windsor however and we all were very impressed by its facilities and amenities. It is considered one of the very best hotels in Rio with a Brazilian 5 star rating. It has the ability to host much larger groups than ours. The day we were there, there were 3 different conventions being held. They are booked for conventions for the next 5 years, so we may be considered lucky to have been able to get our group into such a good hotel.
The day we were there, it was a rainy day, so taking photos was not easy. I ended up borrowing a couple from the internet.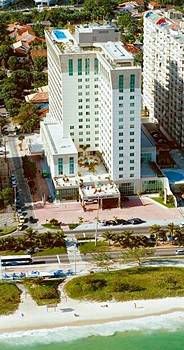 Photo borrowed from the internet of the Windsor Barra Hotel. The Hotel is separated from a beautiful beach by a divided highway.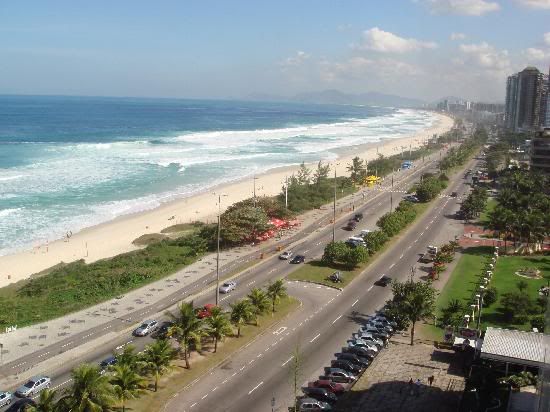 Another photo borrowed from the internet showing the coastline view from the hotel.
The main lobby of the hotel during a busy day with 3 conventions going on.
the hotel rooms are modern, clean, and have ocean views.