When we got back to the beach, some of us took a dip. It was my first time in the Pacific Ocean and it was quite an experience. The waves came in batches, alternately weak and strong. When the weak waves were rolling in, the water level was only shin high. Then came the strong ones, and all of a sudden the water was chest high, and they had enough power to knock you off your feet!
The beach was near the mouth of the stream along which we trekked, and the water at the mouth was turbid, probably due to the muddy run-off from the rain. I forgot who mentioned that a croc was seen swimming there towards the bathers in the ocean. Good thing I was told after I got up out of the water or I might not have gone in in the first place.
After the dip, I went to the outdoor shower to wash off sand and salt, and I saw several big lizards near the shower. I approached to take pictures, but they scampered away except this guy who stopped in his track to take a look, so I was able to take this picture.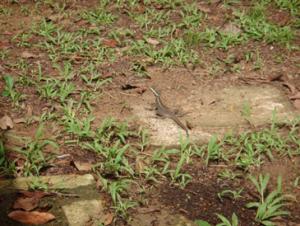 After taking it, I tried to get a closer shot, but, to my surprise, it lifted it's front legs and run away in the manner of the Jesus Christ lizard, except he was not running on water, but rather on the ground. Could it be the JC lizard?
After a hefty lunch, I went around and saw a vulture rummaging in the trash of the ranger station. I had for several days seen these vultures flying high above, so this was a good opportunity to see what they looked like up close. I approached with camera ready, but it flew up onto the fallen tree trunk ready to fly away at the first sign of danger. Having already taken some pictures, I eased nearer and this is the picture I took just before it soared away.