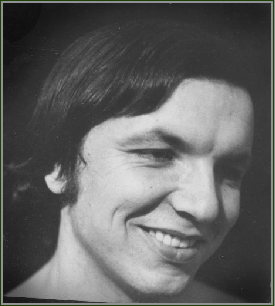 Karel Havlicek died very recently of a heart attack at his home in Hilo. Finding out about his death left me with a great sense of loss and sadness. Karel was definitely one of the greatest plant lovers I have ever known. Karel's son, Pavel, is currently here on the Big Island and informed me that there will be a "Memorial gathering to celebrate Karel's life". It will take place at 12 noon on Saturday April 26th at Karel's home in Waiakea-uka in Hilo and it will be very informal. If you plan on attending but don't have the address, send me a PM. (The address is however listed in the HIPS roster).
I first met Karel in January 2001. This was at the Annual PSSC Banquet in Orange County, CA. I had been invited as the guest speaker, and showed slides of palms in Fiji, New Caledonia and Hawaii. After the presentation I talked with quite a few of the Palm Society members, many of whom were interested in information about Hawaii, and the possibility of moving here. I spent quite a bit of time talking with Karel, and shortly afterwards he made the decision to leave Dana Point, CA, and move to the Big Island. He bought a house on a one acre lot on Makamae Street here in Leilani Estates, and had hopes of buying two adjacent vacant lots. He had his entire plant collection shipped over here, and it was indeed a very impressive collection. Karel had an eye for detail that was beyond amazing and many times he would point to differences between plants that I had simply overlooked. And many times I still couldn't see the difference, even after he explained it to me!
Unfortunately, the owner of the two adjacent acres decided to develop those two lots himself, so Karel started looking for a different property and ended up buying a 3 acre property with two houses in upper Waiakea-uka in south Hilo. I believe that was in late 2003. After moving there he added quite a few plants to his collection, and it should be pointed out that even though he was very much interested in palms, that was a very very small part of his fascination with plants.
Karel was a very unique individual and one of my best friends. We had numerous interesting conversations over the years, and most of the time they didn't even involve palms. A few months ago we went out for sushi dinner at the Japanese restaurant in Hilo Shopping Center, and at least 90% of our discussion that evening was about religion and one's life philosophy with, or without, the belief in a supreme being. Karel was two days younger than me, and we would often joke about that. We both turned 64 in late January 2008. Actually, more often than not, I would tease him about the age difference. As often happens when we talk about palms (and plants in general) the question of time would come up, and Karel would then typically make a comment about how old he was and might not live to see a particular palm grow to maturity. Being that I was the older of the two of us, I would quickly refute his statement that he was old.
I know Karel has many friends in southern California from his time there, and if any of our active SoCal Forum members happen to know someone who's not active on PalmTalk but who knew Karel, please inform them. I have already heard from Palm Society members in SoCal who are thinking of coming over here for the Memorial.
Here's a photo with Karel on the left, then a friend of ours (Aaron), me and Peter Messmer (a/k/a "Peter Palm", owner of Hawaii Palm Company in Hawi here on the Big Island). The day was May 13, 2004, and the occasion was the visit, throughout the day, of more than 200 IPS members during the IPS Biennial here in Hawaii. Karel and Aaron assisted me during the day, acting as guides.